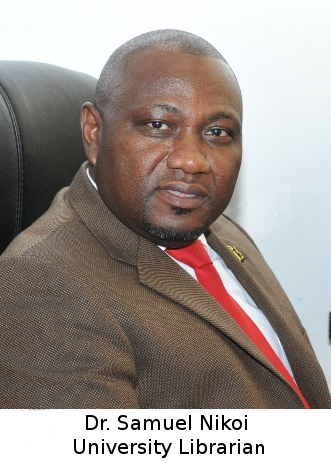 I welcome you to the Library of the Kwame Nkrumah University of Science and Technology (KNUST). As the knowledge hub of the university, the KNUST library system, which comprises the Basic school libraries, the main Prempeh II Library, and its six college libraries, play a central role of supporting the noble vision of the University to become a globally recognized centre of excellence in Africa, for quality teaching and research in Science and Technology. We have done this through the provision of quality academic and scholarly resources, and training programmes, that build the capacity of our users to effectively utilize our learning resources. Like many twenty-first century modern libraries, our aim is to bring the best out of you and advance your learning goals. We do this, by working hard to deliver to you a state-of-the art library service that:
provides access to a wide range of print and electronic resources across many academic disciplines available to you anytime, anywhere;

creates a learning environment that inspires and fuels your ambition to excel academically;

makes available authentic learning spaces, designed to meet individual learning styles;

builds your capacity, through tailor-made training programmes, that help you connect to the global knowledge eco-system;

enhances your learning journey, supported by cutting-edge learning technologies;

inspires you to fulfill your future dream of contributing positively to the development of Ghana and the world at large.
Our aim is also to provide you with equitable, evidence-based, customer-focused and value for money library services, underpinned by continuous improvement. Our well trained and dedicated professional library staff, are committed to providing you with the highest level of support, available, both face-to-face, and online. We pledge to give you all the material assistance you need to exploit the learning opportunities available during your time here at KNUST. We will ensure that our services are accessible and inclusive of all our users - fulltime, part-time, distance learning etc.
I therefore invite you to make the fullest use of our services. Remember, you are here for education and NOT qualification. Working together, we can help you achieve your goal of acquiring a first-class university education. Our users call us "The Listening Library". Do not suffer in silence; speak to us; we are here to help. You are the reason for our existence. Thank you.